Video Footage Of White Utah Police Officers Finally Released Of Shooting Of Somali Refugee! (Video)
by Tj Sotomayor
January 24, 2017
3 comments
Was This Shooting Justified?
Body camera footage shown in court as case ordered to proceed against Abdi Mohamed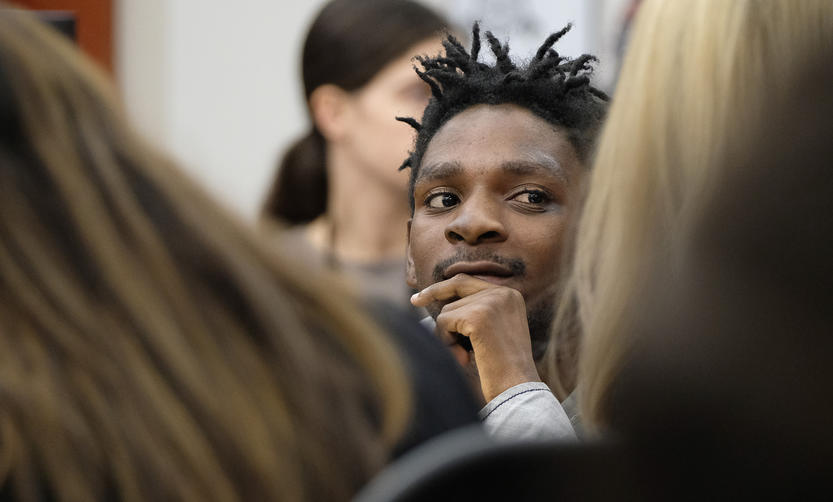 SALT LAKE CITY — A judge has ruled there is probable cause that a man shot by two Salt Lake police officers last year was attempting to sell drugs to a man and then rob him when the shooting occurred.
The evidence hearing Monday also marked the first time the officers' sealed body camera footage was played publicly, showing the officers firing as then-17-year-old Abdullahi "Abdi" Mohamed advanced on the man he is accused of robbing on Rio Grande Street near the homeless shelter.
Mohamed, now 18, is charged in 3rd District Juvenile Court with aggravated robbery, a first-degree felony, and drug possession with intent to distribute, a second-degree felony. Judge Julie Lund ruled Monday there is sufficient evidence for the case to proceed on both charges.
Prosecutors are seeking to have the case transferred to the adult system, an issue that will be addressed at a hearing Feb. 27-28.
Here is the entire video
According to prosecutors, Mohamed, a Somali refugee, was attempting to sell drugs to a man near the shelter on Feb. 27, 2016, and to take the $1.10 the man was carrying. When the man resisted, Mohamed is accused of hitting him with a 3-foot-long aluminum broom handle, then disregarding police commands to drop the weapon.
Salt Lake police officers Kory Checketts and Jordan Winegar, both of whom testified briefly during Monday's hearing, shot Mohamed four times. The officers said they believed Mohamed was about to use the metal broom handle to hit a man again when they fired.
(EXTRA CONTENT: A version of the video, edited for language, can be found on the KSL.com YouTube page. Warning: graphic content.)
Mohamed remained in a coma for weeks after the shooting and now requires a wheelchair. The shooting was found legally justified in August.
The shooting drew sharp criticism toward both the police department's use of force and Salt Lake County District Attorney Sim Gill's decision not to release the officers' body camera footage.
Groups including a media coalition consisting of the Deseret News and others, and the American Civil Liberties Union of Utah tried unsuccessfully on numerous attempts to have the footage released to the public. On Jan. 12, the State Records Committee heard the ACLU's latest arguments on why the video should be released under the Government Records Access and Management Act.
The footage was not immediately released to allow Gill's office 30 days to appeal the decision.
Following Monday's hearing, where the videos were shown, Gill issued a statement that his position has always been that he would publicly release the video when appropriate and when there was no risk of the case against Mohamed being compromised, but not before.
With the footage now having been shown in court without opposition from the judge or attorneys on either side, Gill said it would no longer be necessary or appropriate for his office to withhold the video, nor the surveillance footage recorded in the area.
Gill released the two officers' footage Monday afternoon, as well as surveillance footage taken in the area.
The Salt Lake City Police Department issued a statement Monday offering support for Gill's decision. The statement also voiced support for the officer-involved critical incident team that investigated the shooting and cleared the two officers, noting that the videos were just one element of the review.
The videos were shown once each in court Monday, showing Checketts and Winegar as they exit the women's shelter where they had been investigating an unrelated crime, then noticing a commotion down and across the street.
Checketts shines a flashlight on several individuals and shouts, "Put it down! Put it down now!" He then begins running toward them, as does Winegar, while both officers draw their guns and continue to shout for the individuals to drop what they're holding.
In Winegar's footage, the video appears to show one individual drop a long object that looks like a pipe and move away, while another individual with a long object —later identified as Mohamed carrying an aluminum broom handle — continues to advance on a third person whose hands are in the air.
The officers continue to shout as Mohamed advances and does not respond, then fire. Mohamed falls to the sidewalk, the broom handle flying forward out of his hand, and the footage ends.
Following the hearing, Mohamed's attorneys said they have never opposed release of the body camera footage, but chose not to make that stance public until the video had been admitted in court.
Checketts testified as part of the hearing that as he approached, he saw Mohamed's hand raised with a weapon, and that Mohamed did not respond or drop the object when the officer shouted.
Fearing that the man was about to be hurt or killed, he fired.
Winegar also testified that Mohamed "kept advancing" as officers shouted for him to stop, and they fired in order to stop him.
Both officers described seeing objects in the hands of Mohamed and the other man, and hearing metallic sounds when they were dragged across the ground. Checketts testified he believed they could have been large poles or swords.
The hearing
The primary witness presented by prosecutors Monday was Kelly Mcrae, the man Mohamed is accused of trying to rob after attempting to sell him drugs.
Mcrae testified that, as someone who has been homeless "for a while," he is familiar with the neighborhood surrounding the shelter. He had eaten dinner at the rescue mission, then went wandering Rio Grande Street looking for an after-dinner joint.
Mcrae said Mohamed, who he didn't recognize, approached him and attempted to sell him what he believed was methamphetamine.
"I told him, 'That's not what I want,'" Mcrae testified. "He kept trying to get me to purchase that. I knew that wasn't what I was after."
As they talked, Mcrae claimed Mohamed tried to "smooth talk" him out of his $1.10, becoming angry that his time was being wasted. To try to defuse the situation, Mcrae offered Mohamed an aluminum broom handle he had found while dumpster diving.
"I said, 'You look cool with it, bro.' I was trying to be as friendly as I could be," Mcrae said, noting that the two had chatted calmly and exchanged a high-five during their conversation.
Mcrae said he believed Mohamed was trying to impress his friends.
However, Mohamed then instructed Mcrae to come with him to talk to another man, someone Mcrae said he recognized as an "enforcer." Mcrae testified he didn't dare flee for fear of making it look like he had done something wrong.
"I knew what the game was they were trying to play with me," Mcrae said.
According to Mcrae, the man had a heavy metal pipe behind his back, which he was smacking against his hand in a threatening manner. Mcrae said the other man remained at his primary concern even as Mohamed began striking him with the broom handle, landing several "home run hits" across his back.
One hit from the man with the metal pipe, Mcrae said, "could have been the end of me."
Mcrae ran, Mohamed and the other man behind him, a little way down the street. It was there that he heard clanking keys and looked over his shoulder, realizing police had joined the pursuit, shouting at the men to drop what they were carrying.
Mohamed didn't respond to the officers, Mcrae said, but remained focused on him, and the officers fired.
On cross-examination, Mohamed's attorney, Lacey Singleton, pressed Mcrae on the fact that he wasn't afraid of Mohamed as a threat, but was focused instead on the other man.
"I wasn't too worried about him," Mcrae said of Mohamed.
The defense's only witness for the day, Johnathan Holman, identified himself as a friend of Mohamed who was with him when he initially encountered Mcrae.
While Mcrae claimed Mohamed had approached him, Holman testified it was the other way around. He also claimed there was no talk of drugs or money, but accused Mcrae of "sexually harassing" a girl who was with them, asking her to leave with him to get a hotel room.
Holman claimed he fled just as an altercation with Mcrae began, and he never saw how it ended. He said he was later arrested for throwing rocks at officers in the riots that erupted following the shooting, a charge that court records show he pleaded guilty to last year.
Questions about the girl were never posed to Mcrae in court.
7comments on this storyOn cross-examination, prosecutor Michael Colby pressed Holman on why he never talked to police about the interaction between Mohamed and Mcrae, but chose instead to raise it for the first time in court with no notice.
"I didn't feel like talking to police," Holman said.
Singleton argued at the close of the hearing that there is not sufficient evidence showing Mohamed was trying to rob Mcrae, and that the amount of drugs he was carrying indicates it was for personal use rather than distribution.
If the case is bound over for trial, Singleton argued it should instead be on a single count of aggravated assault, a third-degree felony. Mohamed's attorneys will argue to keep the case in juvenile court, she said.