Beastie Shoots Up McDonalds Drive Thru Because Her Burger Had No Bacon!! (Video)
by Tj Sotomayor
February 11, 2014
0 comments
'No Bacon' Order at McDonald's Leads to Drive-Thru Shooting
By:  Tommy Sotomayor

Beastie Shoots Up McDonalds Drive Thru Because… by tommysotomayor
So is there anyone on the planet more silly in their dealings than black women?  Im sorry but if you look at this mess all you see is mess!  The fact that black women have found this crap to be cool is what should be shocking to everyone around!
This woman shoot up a place because she felt like they didn't treat her right!  This same woman walked into a place and left her phone number with a dude that works there in hopes of having coitus with him!  You can't blame men for not having anything when you are the main ones rewarding them for their lack of!
I am not saying that there is anything wrong with men that work in these places but you know hes not financially prepared to take care of a family but then most black women arent either but they have no issue reproducing kid after kid in hopes of… hell I know know but this woman.. umph!
What she did was horrible but how she got caught is indicitivie of how most black women act like snack pack throwers in grade school!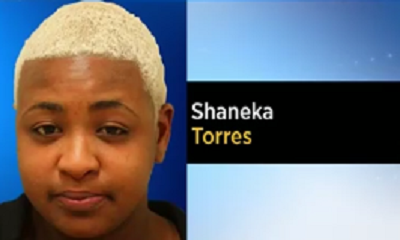 GRAND RAPIDS, Mich (Feb. 10, 2014) – A Kent County woman is facing a maximum seven years behind bars after a shooting at a McDonald's drive-thru early Monday morning.
Shaneka Torres, 29, is charged with carrying a concealed weapon, unlawful discharge of a weapon and felony firearms.  Right now she's being held on a $50,000 bond.  Another court appearance is scheduled Feb. 21.
Around 3:00 a.m., authorities say Torres was a passenger in a vehicle that went through the drive-thru at the McDonald's near 28th Street and Madison, placing an order for a meal with bacon.
Investigators tell FOX17 Torres received her first order and it had no bacon, so the Torres later returned to the McDonald's to get it fixed.
Shaneka Monique Torres, 29
Staff at the McDonald's say they replaced the order free of charge, but apparently there was no bacon on the second order, and Torres is accused of firing a shot through the drive-thru window.
No injuries were reported in the incident.
Detectives said they were able to find Torres and the driver of the vehicle after the pair had left a number with McDonald's workers to discuss the mishap more at a later date, prior to the shooting.
The driver involved was questioned and released by authorities.
Torres also had a bench warrant for not paying fines connected to an earlier offense for driving on a suspended license.