Woman Shoots & Murders Teen Boy Who Was Later Found Out To Be Her Kids Father! (Video)
by Tj Sotomayor
April 18, 2014
2 comments
Young Boy Lost!
Our show on Friday night will have Judge Alex in it and what I will ask him about is why do we view sexual attacks on boys by women different than any other group being attacked?
The story that you are about to see is one of the worst that I have ever reported on because it involves the jealousy of a grown ass woman over a 16 year old boy that ends up in him losing his life!
@Tjsotomayor 30 year old BEASTIE shoots and kills 16 year old boy…who turns out to be the father of her child! http://t.co/cpl0cxjS15

— SpeakOnIt (@Clint_SpeakOnIt) April 17, 2014
At no point should we have started congratulating boys for being taken advantage of by older women but we surely need to stop this stuff as of today.  This young boy lost his life to the jealousy of the black beastie and not one of the people who oppose me says a word about it!
This boy like the boys in the previous story was taken advantage of by an older knowing woman just for her pleasure and nothing more.  The boy ended up fathering a child with this woman and then going back to be around people whom he should have been around in the first place, people his age!
This angered the beast and she wasn't having it.  THIS IS A REAL ISSUE!
It is time for us to say something and stop believing that boys being with older women is a good thing.  IT ISNT!  These boys suffer all types of damage psychologically and in this case, this boy lost his life!  If any of you can explain to me why the woman is smiling after killing this young boy, I would be forever in your debt but until then, I WILL CONTINUE TO CALL OUT THE HAIR HATTED HOOLIGAN AND THE REST OF YOU SHOULD TOO!
Todays black woman is lost and its acts like this that should make all of you fear The Black Terminatrix!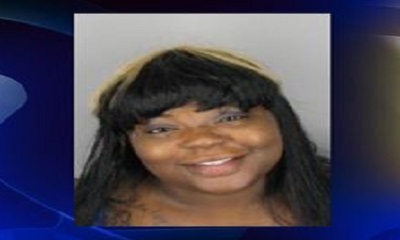 RICHMOND, Calif. —
A 30-year-old Richmond woman has been charged in the fatal shooting of a 16-year-old boy who was the father of her child, a prosecutor said Thursday.
Melinda Gaffney had apparently been arguing with Terrance Forks about his girlfriend before she allegedly shot and killed him outside of a Richmond apartment complex on the night of April 8, Contra Costa County Deputy District Attorney Mary Knox said.
Prosecutors charged Gaffney with murder with an enhancement for use of a firearm causing great bodily injury, according to the district attorney's office.
The charges came two days after Gaffney turned herself in to the San Francisco Police Department on a $1 million arrest warrant.
She had been transferred to the Contra Costa County Sheriff's Office as of Thursday morning, authorities said.
Police found Forks suffering from gunshot wounds after receiving multiple reports of a fight and shots fired in front of the Crescent Park apartments in the 3900 block of Fleming Avenue around 10:20 p.m. on April 8.
A crowd had gathered at the scene and witnesses gave police the license plate number of the suspect's white Lexus sedan, which was later found abandoned.