Seems Like Black Women Will Sexualize Any Thing Because Thats The Only Way They Can Get Attention! (Photo)
by Tj Sotomayor
April 28, 2018
0 comments
DNA On Display!
So, the photo you are seeing below got me flagged on Instagram and all I said in the post was only up for 30 minutes and here is what the caption said: Black Women Will Sexualize Anything… All They Are Good For Is Screwing And They Aint Even GOod For That Because U End Up With Kids U Didn't Want And STDs U Cant Get Rid Of!
Well after that, the post was gone yet IG allows people to flag you without telling you who and allows them to continue to stay on your page and stalk you!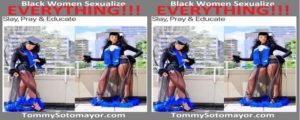 The fact of the matter is that the woman in the photo says how she Slay, Pray and Educate but what the hell has she slayed?  Black women seem to only bring sex to the table and as men this is the reason why we will never get anywhere as a culture because we are now praising whore behavior!
Look at how many people liked the post on IG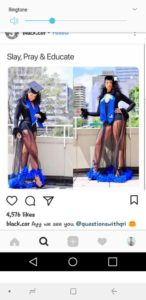 How in the hell can 4500 people with in a few hours like a post like this?