CAU Science Student Murdered By Real Niggaz For His Jordans Buying Iphone 6 From Craigslist (Video)
by Tj Sotomayor
February 12, 2015
5 comments
Please Avoid Niggaz At All Cost!
So, now is it ok for me to yell out black lives matter?  Because I do the news everyday all day and you know what I keep seeing???  Black people who have no problem taking the life of another black person yet we stay yelling "blacks lives matter" and "hands up dont shoot"  So why is it that no one tells blacks this?
A black life has the least amount of value to another black person.  Black people do not view the life of another black man as anything but an inconvenience to the rest of world!
In this story which was sent to me by #Sotonation member Justin Thomas, we go to Clark Atl University to see a young promising young man who had his life snuffed out by some no good niggaz who had no fathers in their lives… Watch!
See now let me ask you a question, do you think this would have happened if he had just avoided people who looked like him? Reality is that they dont look like him because Niggaz are very easy to recognize.  Tattoos on necks, making mean faces at parties, sagging pants below their butts, mean disposition, always in packs of dudes but claim they arent gay you know stuff like that.
The young man was in a suit and tie and in college, now these are places & things that usually repulse niggaz also working for a living and trying to improve their condition along with others are big things that are off putting to niggaz.  If you think about it, it shows you how stupid these niggaz are because dude only has one pair of jordans but its 3 of them so what were they gonna do fight til the death over them?  Leave it to niggaz not to think any crime they commit though!
James Jones fell victim to a shooting by men who had no future yet its wrong for me and others to point out that these men are being raised by single black mothers.  These women are the main causes of violence in bad neighborhood but it makes you a coon or self hater to say this but what do you think James would say about these boys if he could speak?  How do you think his family feels about black men right now as they look for money to bury their son, their brother their friend?
Sad part about this whole situation is that there isnt a father involved anywhere but hey that will never make the mainstream media!  Remember guys, saying stuff like this, is what got Bill Cosby in trouble!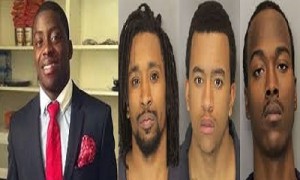 A Clark Atlanta University student is the latest victim of deadly scams involving the same website: Craigslist. And the death is one more reminder of the potential dangers with the online site, according to police.
James Jones Jr., 21, was attempting to buy an iPhone 6 off the site late Monday when he agreed to meet the alleged seller in a Marietta neighborhood. Instead, he was confronted by three men who shot him twice, robbed him of his Nike tennis shoes, and left him to die in the front seat of his car, police said.
In less than 24 hours, investigators had identified and arrested three suspects in Jones' killing, Officer David Baldwin with Marietta police said. Though it's not known how police tracked down the three so fast, address records showed that two suspects lived within feet of the Jamaica Cove address where Jones was found.
Jones had been shot in the right shoulder and right side of this neck with a .45-caliber handgun, according to arrest warrants. The college chemistry major was dead when officers arrived.
Terayle Hill, one of Jones' classmates at CAU, said Jones was ambitious and a sharp dresser, sporting suits and ties for his classes. Jones, a native of Daytona Beach, Fla., previously played football at CAU and was currently serving as a mentor in local elementary and middle schools, the university said in an email to students.
Tuesday afternoon, police arrested Jordan James Baker, 18; Jonathon O'Neil Myles, 19; and Kaylnn Shiquez Ruthenberg, 21, at Ruthenberg's Franklin Road apartment. All three were charged with felony murder, armed robbery and aggravated assault and were booked into the Cobb County jail. They were denied bond at their first court appearances Wednesday morning.
Investigators believe Ruthenberg was the gunman, and Myles and Baker were his accomplices as shots were fired, warrants stated. Because he had to be in court Wednesday morning, Ruthenberg had to skip another court appearance. He was supposed to be arraigned on felony theft charges stemming from an October arrest, according to Superior Court records.
In August, Ruthenberg allegedly stole a $1,600 Tag Heuer watch and pawned it for $50, a previous arrest warrant stated. Myles also has an arrest history, records showed. In July, he was charged with four felony counts of entering autos, his arrest warrant from that case stated. As of Wednesday afternoon, that case had not been indicted, a court clerk said.
On Wednesday, Thomas Tuffa told Channel 2 Action News he had also encountered the same three suspects before Jones arrived. Tuffa was also attempting to buy a phone, he said. But when the alleged seller demanded to see his cash, Tuffa instead got back in his car and left.
Jones' death came just two weeks after a Cobb County couple was found shot to death in Telfair County, where they had driven to possibly purchase a vintage Ford Mustang.
Bud Runion had placed an ad on Craigslist to find his dream car, and on a Thursday morning in January, he and his wife, June, drove to Telfair County. But there was no car, and the Runions' bodies were found four days later. Ronnie Adrian "Jay" Towns was arrested and charged with the couple's killings.
In September, Daniel John Zeitz, 28, of Roswell, was killed while attempting to sell a PlayStation 4, according to Sandy Springs police. Nathaniel Vivian, 20, and his 16-year-old girlfriend have been charged with murder in the botched robbery that led to Zeitz's death.
After the Runions were killed, metro Atlanta police agencies publicly asked those involved with online selling and buying to be cautious when meeting strangers, urging people to meet in public places, such as police stations. Metro departments used Facebook to post additional reminders following Jones's death.
Hill, a CAU junior, said he's now more hesitant to buy anything online unless he knows for sure who is selling it.
"It's a lot of evil in this world," Hill said.
CAU will host a memorial service for Jones on Thursday at noon in Davage Auditorium in Haven-Warren Hall.
Police say that a student from Clark Atlanta University was killed after answering an ad on Craigslist for an iPhone 6.
James Jones, Jr., 21, a junior studying chemistry, had responded to an ad in Craigslist to buy the phone on Monday night in Marietta, Georgia, about 20 miles north from his school.
"It was an illegitimate ad he was responding to and he did not know the sellers," Marietta Police officer David Baldwin told ABC News, adding that the posting appeared to be real. "The ad was posted in the hopes to lure somebody in, but obviously the victim didn't know that."