Do You Think Your Hair Is "Nappy"? This Might Be The Reason
by Coils
March 7, 2016
0 comments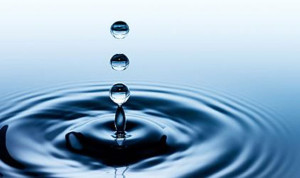 Water is the most important ingredient for the foundation of healthy hair. It's also the most ignored when it comes to diagnosing hair problems.  How can water be a part of the problem you may ask? It can be a problem when it's considered "hard" water.  85%-89% of the U.S. has hard water. Ironically, the water is the hardest in mostly black and inner city neighborhoods. What is hard water? it's water that contains minerals such as calcium, magnesium, manganese, chlorine and even prescription drugs at times. The water is cloudy when it's hot and it can have an offensive smell which chlorine is responsible for. If your faucet water taste like sugar water, you have hard water.
What does hard water do to the hair?
Overtime, it causes the hair to become dry, frizzy and unmanageable. The hard minerals build up on the strands and scalp keeping moisture from penetrating the cuticle and nourishing the scalp. Hard water requires more shampoo use to produce a lather which means the minerals in the water work against products.  Since hard water coats the strands,  your hair is not being hydrated properly.  Breakage is usually the result of a malnourished mane whether your hair is relaxed or natural.  Products for relaxed hair has ingredients that tend to mask the damage being done by hard water but hair loss in length is inevitable. For the natural sistas it causes the hair to become hard, so hard it can cut your hands if you're smoothing your hair to twist. It happened to me a couple of times, had me wondering how I'm getting these superficial cuts. I didn't see blood but it's still a concern because hair shouldn't cut your hands no matter how coarse the hair may seem. Using hard water on natural hair cause low porosity. Low porosity is when your hair is hell bent on not letting in moisture or nutrients. It causes the hair to lay flat which explains to the moisture resistance since strands are usually round.
Hard water also causes the hair to ball into a fist and never let go. What I mean by that is the hair rolls into a tight coil and it's difficult to get out and that makes the detangling process painful. The hair become sticky because of the minerals which can break can break combs and ball-bristle brushes while detangling. This can be behind the frustration and hate of dealing with African American hair and the obsessive need to wear other people hair. Honestly it's not healthy for you spiritually. In India, women cut their hair to get rid of their problems? Did you know that anything you ingest and experience is embedded into your strands? When Indian, Malaysian, Brazilian hair is in top of your hair, their problems and your problems mix spiritually on your crown. That's another subject for another time. Once we can fix our water, we can fix our hair and the feelings towards it.
How can I fix this problem?
To fix this problem you have to improve the quality of water by turning the hard water soft. What is soft water? It's water that goes through a process of removing Calcium, Magnesium and other metals which improves the appearance, taste, smell and the feel of it. The results of using soft water on coarse hair is softer manageable hair with a natural sheen and bounce. It will also reestablish your original curl pattern if your hair is puffy and over time relax your curls. Women with straight hair or loose curls should be mindful the soft water will flatten the hair making it difficult to add volume. For afro textured hair, soft water will encourage the hair to give into the water making it lay down. Since black women hair grows in a up and out direction it makes penetrating hair strands a challenge. But once the necessary changes are made, your curl pattern can go from the size of a coffee stir stick to the size of your fingers over a period of time.
What are the necessary changes?
If you live in rented property the most you can do is install a shower filter. If you live by Home Depot in your area, they have a shower filter costing $17. It's a great introduction to this type of filtering that's easy to install. The filter  that needs replacing every 6 months inside the container and costs $10 is made by a company named Sprite. If going to a home improvement store is not an option, there are plenty of filters to choose from to purchase on the Internet. Those prices range from $25-$100. You want to " kill two birds with one stone" by adding a filter and replacing the shower head? Well there are inline filtered shower heads available as well online in the price range above. Here are some pictures of filters.
Want to make an larger investment for improving water in your home for your hair? Then getting a whole house filtration system or water softening system can help with that. This is when professional help is recommended for the best results. Home Depot does in home water consultations for free, give recommendations off what they find and also installs water systems. These are more expensive from $600 to over $1000 but some has a life span of 6-10yrs!
There are many choices to pick to improve the water for your hair and home to fit the ideal budget. The water that's being provided in the home is not helping our hair become nourished, long and healthy nor benefiting our bodies as a whole. We have to become proactive in improving something we don't like instead of complaining about it, covering it up or cause damage thermally and chemically. We also need to stop having ill feelings towards it. Since water is one of basic necessities for hair growth, why not take a step towards improving your hair to reveal shinier and healthier hair. The better we feel about our hair the longer and faster it'll grow.