Chicago S.I.M.P. Murders Own Mother Because She Said He Had "No Game"! #IShitUNot (Video)
by Tj Sotomayor
January 18, 2015
5 comments
I'll Aways Love My Momma!
The life of a S.I.M.P. is a very difficult one!
You start off believing things about your mom that if you applied these things to any other woman she would be considered no good but because the woman is your mother you most forego all logic and understanding and refer to her as the best woman on earth.  From that moment on, that boy is FUBAR!
No person can be taught an illogical path to life and be expected to find his or her way back to the path of logical thinking.
Men like the one in the story that was sent to me by Jay Smooth is proof of how dangerous it can be to have this man being raised to value the opinion and thoughts of this flawed woman above your own!
@Tjsotomayor http://t.co/WiwDjhw8Lq HER OWN SON KILLED HER.

— JaySmoothPhD (@BLOCKMGOBLUE34) January 18, 2015
if the video above doesnt work then try the one below
Why is it that I would be the only one to think that a mom in her 50's talking to a man in his 20's about his inability to get women is inappropriate?
Its sad but honestly I have heard just as many black women say that a man is a lame, gay or a punk because hes not sleeping around with women than I have heard men do.  Its really sad that we have boiled manhood down to how many women that man can get to sleep with him yet these women wonder why their baby daddy aint sh*t?!?
What makes this case sad is what makes this case almost normal because it is a great example of the chickens coming home to roost!
There is no way you can shelter a boy like this, have him be a man and still shelter him like this but speak to him like you did when he was a boy even though now he has the strengh and the anger of a man.  Many of these boys act just like women when it comes to their emotions so whats the outcome normally going to be?
If you look at the mans photo, he has scratches and bruises on his face so this could mean that either the mom put up a fight after seeing the knife or the son might has just stabbed mom because after she got a few solid licks in, he had no choice?
The jist of this whole matter of me is that men if you have a chance to date women with male children or not, do like a smart person and say NO!  Besides, even lions are smart enough to know that if they are going to date a woman with kids you would be better off killing them and thats a fact in the animal world.. Because there are laws against that for humans why not do the best thing and leave women who have male children, alone?
Bastard Sons of Single Mothers are dangerous to everyone around them!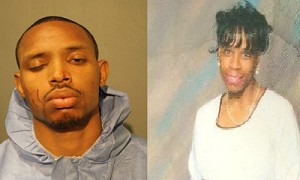 Prosecutors: Son fatally stabbed mom for 'putting him down and telling him … to get a girlfriend.'
An Ashburn man told police he stabbed his mother to death after an argument because he was angry with her for putting him down and telling him to get a girlfriend, prosecutors said Wednesday.
Damita Collins, 54, was found dead Sunday night by her husband, the stepfather of Andre Brown, 26, who is charged with first-degree murder in Collins' death, prosecutors said. Judge Maria Kuriakos Ciesil ordered Brown held in lieu of $1 million bail.
Collins, who according to her LinkedIn profile managed programs for nine schools run by Ada S. McKinley Community Services, had a dispute with Brown after her husband prepared dinner Sunday night at the home the three shared in the 3500 block of West 77th Place in Chicago's Ashburn neighborhood, according to Assistant State's Attorney Jamie Santini.
Collins' husband made dinner and took his food to the basement to watch television, while Collins and Brown stayed upstairs, prosecutors said. While watching TV, Collins' husband heard several loud noises from upstairs.
Mamas don't raise your boys up to be losers by coddling them and making excuses for them their whole lives. This is the result.
Just after 9 p.m., the husband went up to his and Collins' bedroom, and found that it was locked, prosecutors said. He tried to open the door with a key, but Brown pulled open the door and the husband saw Collins lying in a pool of blood on the bedroom floor, prosecutors said.
Collins' husband chased Brown, and Brown ran out of the house and fled in a car belonging to Collins, prosecutors said.
When police and paramedics responded to the husband's 911 call, they found Collins with a deep stab wound to the chest, a slash wound on the neck and a defensive wound on a thumb, prosecutors said. Collins was pronounced dead at the scene after police were called about 9:45 p.m., police said.
Brown was arrested soon after the slaying, and police found he had blood on his clothing, shoes and hands, as well as cuts to his hands and face, prosecutors said.
Police found a bloody knife in a butcher block in the home's kitchen, prosecutors said.
Brown told Chicago police detectives that he was angry with his mother for "always putting him down and telling him that he needed to get a girlfriend," Santini said.
Brown told investigators that he used a knife to stab and slash his mother, then put the knife back in the butcher block before he fled.
Brown's attorney said he is a graduate of Simeon Career Academy.