Lil Nigga Gifted A Heart Transplant Dies In A Crash Evading Police! Where R The Cries Of Racism Now? (Video)
by Tj Sotomayor
April 2, 2015
8 comments
A Waste of A Heart!
So, 2 years ago, there was a large liberal outcry saying that denying a Georgia teen with a troubled past access to a heart transplant was racist and that blacks were being mistreated in the medical field.  Now this could actually be true and I believe doctors will treat a non black patient better than a black one especially when its a black male but when it comes to the case of Anthony Stokes this situation was just not the case yet because of white liberalism, here is the story that you are presented with.
2 years ago, I did a story about a young man who was being denied a heart transplant because doctors felt like there were more deserving patients, not because he was black and they werent, but because his past of being a jackass and theirs of being good kids was weighing heavily on the decision.  Well, after the liberal media got hold of the story, the doctors along with the public was forced to feel sorry for the young thug and actually went along with the narrative that the hospital had acted on racial lines instead of common sense…
This bring us to today… Anthony Stokes after a successful heart transplant has went on to win the nobel peace prize…. NAH, APRIL FOOLS!  What really happened is that he is dead and not because of the heart but because even after the transplant, he still had no heart!
The teen died in a car crash after he had stolen a car, hit a pedestrian and shot at an old lady!  Watch….

OK, Now do the unthinkable and forget the words that I spoke for just one second and think about the implications of what this young man did….
Future black organ recipients will have a hell of a hard time getting not only the transplant but any sympathy for it due to the fact that this idiot did what he did.  Dont think for one moment though that this isnt planned….
Liberals love to back the worst black people they can find which makes whites fell more just in their racism because we are like, hey even when we give these niggers a second chance at life they screw that up and who could blame them.  How many white kids do you think died in the time this fool was living with a heart?  How many of them do you think are now bitter as hell because their kid who was a model citizen is gone while this idiot walked around the world like it owed him something?
Can someone tell me how these lil thugs get their hands on guns so easily?  AGAIN, where are the parents as the story only mentioned the mother which would let you know he had no chance being raised by a black single mom in America!
This kids whole persona was that of a thug yet somehow the public was duped into believing he was a model citizen who white people just wanted to hate on.  You know like Mike Brown and Trayvon and the list goes on.  We have a habit of putting our might behind thugs..  I guess only thugs lives matter!  These lil niggaz whole internet persona is that of a violent, gangsta, non law abiding jackass yet wonder why people fear them???
Let me ask, where are you guys now giving an apology? Let me ask, where are you niggaz who blamed racism, is this how you reward the good white people who caved into your lame claims of racism?  Lets hope they were able to take back their heart from the thug and give it to someone actually worthy of a second chance!..  Remember white people, we fear niggaz too!!!
Troubled Ga. teen who received controversial heart transplant dead after crime spree ends in fatal wreck: cops
He promised to change his misguided ways if he got a new heart, but evidently troubled Anthony Stokes was unable to make good on those vows.
The Georgia teen died Tuesday after a botched home invasion, crashing a stolen car and ending the troubled life that was extended back in 2013, when he got a controversial heart transplant.
Stokes, 17, wrecked the carjacked sedan into a pole as he tried to flee police, authorities said, and the 33-year-old Roswell woman he hit with a car while fleeing from a botched robbery was hospitalized in stable condition.
The young man failed to make good on the promise he made to turn his life around in 2013, when he was denied a needed heart transplant because of behavioral issues and disobeying doctor's orders.
At the time, Stokes was given six to nine months to live and the banishment by doctors at Children's Healthcare of Atlanta was essentially a "death sentence,"said activists who came to his defense.
Anthony Stokes slammed this stolen Honda as he fled police Tuesday on a Roswell, Ga., highway. His death comes not two years after he received a controversial heart transplant. He was first denied the organ after doctors became concerned over his troubled past and history of noncompliance with doctor's orders.
The story sparked national outrage and the hospital eventually relented, completing the surgery that August, just seven days after he was put on the transplant list. A total of 63 Georgia patients received a heart transplant in 2013, according to the United Network for Organ Sharing, including six who were between the ages of 11 and 17.
The family said at the time that they did not know the donor's identity.
"He's a young boy. He's going to make mistakes, but I still think he deserves a second chance," said his mom Melencia Hamilton.
That chance ended this week just off the intersection of Alpharetta Highway and Hembree Road in Roswell, Ga., some 25 miles north of Atlanta, officials said.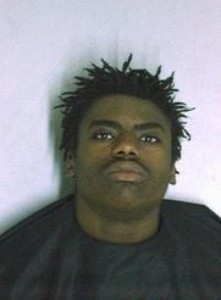 Stokes, of Decatur, allegedly carjacked a Honda, then burst into a Roswell home and shot at an elderly woman as he tried to rob her, WSB-TV reported. The woman was not hit.
"A lady said a person kicked in the door to break into the house. She was inside the living room and saw the suspect, who was wearing a mask," Lisa Holland, of the Roswell Police Department, told the news station.
Stokes then took off at a high speed as cops chased him down the highway. He smashed into a 33-year-old pedestrian before losing control and plowing into a pole.
"He did a fishtail spin going around to the right and hit a pedestrian. I saw a white shirt fly up in the air," witness Claudia Kuklis told WSB.
Clementina Hernandez was hospitalized in stable condition, but Stokes, who was cut from the mangled wreckage, died later Tuesday at the hospital, police said.
The teen was wearing a court-ordered ankle monitoring bracelet for past fighting when he learned he had dilated cardiomyopathy, an enlarged heart that is too weak to pump enough blood.
The family and his supporters said Stokes was being punished "because he was poor, black and had trouble with the law, which his mother said was for fighting," the Atlanta Journal-Constitution reported.
"So I can live a second chance," Stokes told WSB as he fought to get on the transplant list nearly two years ago. "Get a second chance and do things I want to do."
Photos from his Facebook page show selfies in which Stokes points a gun and clutches wads of cash. Several pictures feature Stokes smoking marijuana. Among his "likes" is the video game Grand Theft Auto 5.
In January, Stokes spent about three weeks in the DeKalb County Jail after an arrest for criminal attempt and possession of a tool for the commission of a crime, online county records show.
The hospital embroiled in the heart transplant controversy, Children's Healthcare of Atlanta, declined Wednesday to answer specific questions about the medical incident some 20 months ago.
"We cannot provide any additional information about this tragic situation," a spokeswoman told the Daily News in a statement. "We are deeply saddened by this loss."
A person who has been the recipient of an organ transplant can also be an organ donor, according to Donate Life North Carolina. It's unclear if Stokes was an organ donor at the time of his death.